What You'll Experience in Colombia
Colombia is home to vibrant cities and people, unbelievable coffee, music pouring out of open windows, and some of the most beautiful places on the planet. Dive into culture, food, and rhythm on this yoga retreat in Colombia (with the help of local guides, of course). Hike mountain paths between villages in the Andes, take over a restaurant in Cartagena, horseback to a picnic in the wild, and chillax on the Rosario Islands. Explore by foot, hoof, plane, hands, and taste buds as you experience the best, and the tucked away, of Colombia. Add color, rhythm, and spice to your life as you luxuriate on this yoga retreat in Colombia.
How You'll Feel When You Return Home
You'll return home with rhythm in your steps and vibrancy in your heart. You'll bring back recipes, coffee, photos, new Spanish vocab, and technicolor memories to keep you smiling even on the dreariest of days. This yoga retreat in Colombia is truly legendary! 
How You'll Experience Colombia
You'll start your yoga retreat in Colombia by exploring Cartagena—a notoriously colorful and vibrant city—on foot and by taste bud. You'll stay in the vibrant Getsemani region of town, known for its delicious food, impromptu dancing on the streets, beauty, and diverse markets. Next, you'll fly to Barichara, a no-words-can-do-it-justice village in the Andes with cobbled streets and an unchanged look since its founding in 1705. Be blown away by an unforgettable and tucked-away mountain village experience. Explore by foot and tuc-tuc (hang on tight!), horseback ride and picnic in the wild, hike mountain paths, wander between villages and dine with locals. Cable car between mountain ranges and get your caffeine by tasting local brews at a coffee plantation. Then head to the coast to relax on the beach, boat the pristine Rosario Islands, swim, snorkel, and eat fresh seafood. You'll bookend your days with yoga sessions and mouthwatering cuisine to help you integrate and acclimate.
TO REGISTER OR LEARN MORE,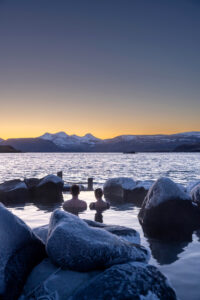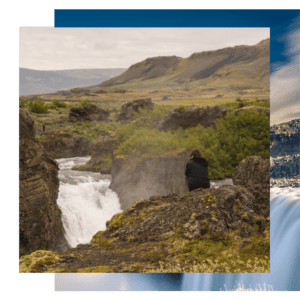 What You'll Experience in Iceland
From the volcanic power that continues to form this island to the big-little-city hum of Reykjavík, this island is alive. On our yoga retreat in Iceland, explore waterfalls and geysers, taste test your way around the city, rest in the south surrounded by Icelandic horses, see its out-of-this-world terrain, and chillax in the Blue Lagoon. This yoga retreat in Iceland will truly take your breath away. 
How You'll Experience Iceland
On your yoga retreat in Iceland, you'll hike, wander and soak your way to a state of energetic harmony with the living earth. You'll sample local fare on a food tour through vibrant Reykjavik and visit rustic fishing villages guarded by half-human deities from the Icelandic Sagas. You'll walk through a 50-foot-wide lava tube, stand in the shadow of the majestic Kirkjufell mountain, revel in explosions of geothermal color and rejuvenate in the infinity pool-like hot springs of Hvammsvík. In a few steps, you'll cross a bridge from North America to Europe (it's possible, we promise!). Along the way, you'll integrate Iceland's striking volcano-carved beauty with daily yoga practices.
How You'll Feel When You Return Home
Wherever on Earth you live, you'll return from this Iceland yoga retreat adventure awed at the force sleeping beneath our planet's surface. Inspired by Iceland's use of geothermal energy, you'll carry a seed of hope for a future of environmental harmony. You'll see shadows of (friendly!) trolls on nature walks and every time you take a hot bath, you'll close your eyes and imagine the feeling of volcanic mud between your fingers as you drift back to Iceland in your memory.
 

TO REGISTER OR LEARN MORE,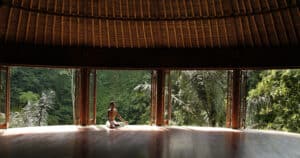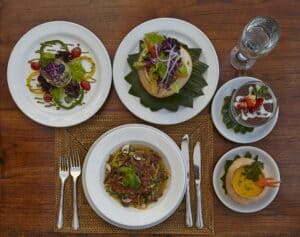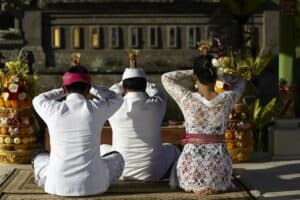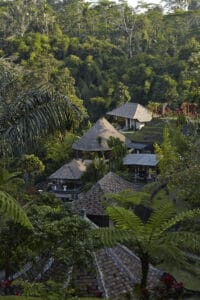 What You'll Experience in Bali
Bali is a world-renowned yogi paradise. But, for The Travel Yogi, it's just paradise. Brimming with culture, mysticism, magic, and nature, this yoga adventure is for the beach-loving yogi seeking backroads biking, ocean vibes, and cultural exploration. We don't care how much you've practiced breath of fire, Bali's beauty will truly take your yogic breath away. Learn more about our Bali yoga retreat.
How You'll Experience Bali
Our Bali yoga retreat adventure is a journey filled with wonder. We will take you off the mat to experience the rich and luxurious beauty of Bali—from its people to its many sacred temples. You'll explore by bike, wave, tastebuds, and foot across the island, imbibing in the ancient and magical energies. Dine with locals, rejuvenate in the healing waters of the ocean, and witness verdant hillsides and green rice terraces. You'll have time to relax, explore, imbibe, and mingle with new friends and travelers—and, of course, integrate it all on the mat. 
How You'll Feel When You Return Home
When you get home (unless you decide to stay!) from your Bali yoga retreat you'll have a little piece of magical, soulful, iridescent Bali in your heart to match your memories and photos.  Expect body and mind rejuvenation and residual happy vibes from this magical island.
TO REGISTER OR LEARN MORE, 
What You'll Experience in Italy
Classical & Delicious! Get ready to slow down and savor every moment of this slow food and wine yoga retreat in Italy. Nestled between the Alps and the coast, the Italian region of Piedmont is often overlooked by travelers, but boasts some of the nation's richest culinary and winemaking traditions. From cheese and wine to hazelnuts and chocolate, you'll learn from locals how much care and tradition goes into every Piedmontese delicacy – with plenty of chef and home-cooked meals to deepen your appreciation, of course! When you're not practicing yoga in Italy, you'll meander on foot through cobblestone streets, cycle down country lanes and explore rolling vineyards against a backdrop of mountains. Ease yourself into the birthplace of the slow food movement for a week of quintessential Italian adventure.
How You'll Experience Italy
You'll immerse yourself in Piedmontese culture in the best way possible: through your tastebuds (with plenty of expert local guidance). On this yoga retreat in Italy, your daily yoga practice will lay a mindful foundation to help you slow down and savor Italian culture. Settle in at a private villa overlooking vineyards and fruit groves, and get to know Piedmont's fertile countryside. Here, warm sea breezes nurture Nebbiolo grapes, prized white truffles flourish beneath the soil and winemakers, farmers and cooks uphold generations-old traditions. Visit family-owned restaurants for plates of agnolotti di plin or truffle-scented tajarin – but save room for the best panna cotta you've ever tasted! You'll also tour wineries, e-bike to medieval villages and have  leisure time to enjoy the villa's infinity pool! Learn the Piedmontese secrets to selecting the best fresh vegetables as you try your hand at a cooking class and get a mixology lesson from a master bartender at Torino's own Martini & Rossi. All along the way, you'll watch past and present fuse before your eyes as you sip dark red glasses of Barolo wine and sample cuisine that's both rustic and gourmet.
How You'll Feel When You Return Home
You'll return from your yoga retreat in Italy calm, satiated, and brimming with a renewed appreciation for the small moments of indulgence in your daily routine. You'll peruse your local farmers market with zeal (and try your best not to compare it to the open-air markets of Canale). Every time you pull out your bottle of vermouth and mix a perfect aperitivo, you'll stun dinner guests into silence. Whenever the pace of life quickens, you'll pause and remember the traditions of Piedmontese cheesemakers, restaurateurs and hazelnut farmers. Like them, you have plenty of time to live intentionally… and plot your return to Piedmont to taste, learn, and practice yoga in Italy again.
TO REGISTER OR LEARN MORE,