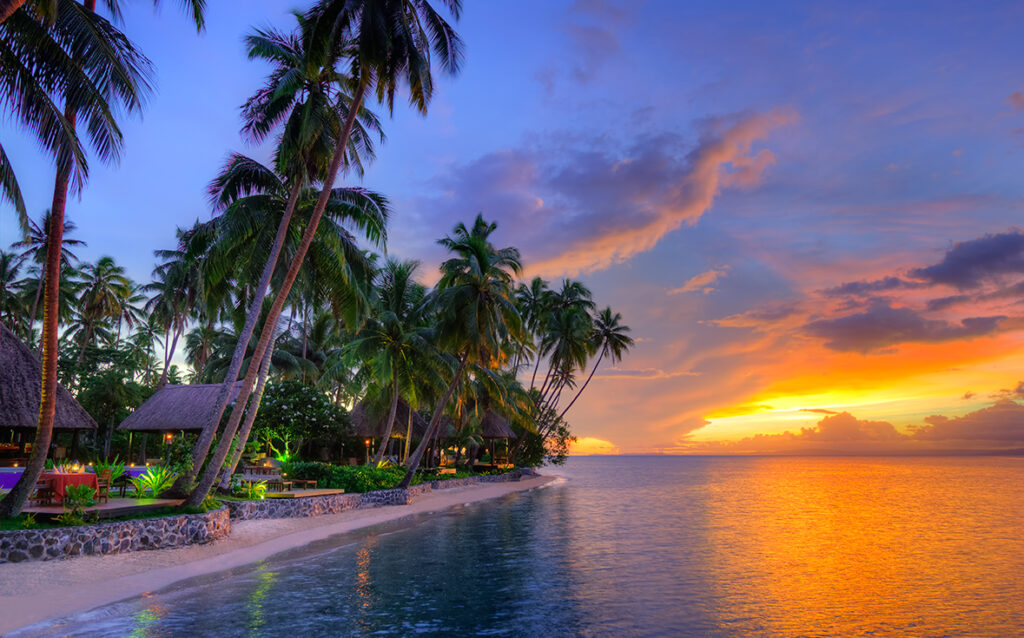 In early 2000, Debbi began putting together her own yoga retreats to Sayulita, Mexico. This experience served to fuel her wanderlust to other venues. So, in 2014, she joined The Travel Yogi faculty. This transition not only allowed her to discover new parts of the world, but also to offer her students more. More because The Travel Yogi, the Wellness Adventure specialists take care of all the travel details so she can focus on creating unique, personalized instruction for her clients. Her specialty is yoga. Their specialty is finding "culture-packed, nature-engaging, one-of-a-kind adventures" with unique itineraries in amazing locales. Each retreater gets to experience the best in both travel and yoga.
Debbi and the Travel Yogi have taken their yoga all over the world including: Iceland, Peru, Panama, the Galapagos, Sri Lanka, Vietnam & Cambodia, France, and the Mayan Riviera.
Interview with Debbi Murphy,
Why do I love yoga retreats?
Because it joins together 3 of my favorite things…travel, yoga & commUNITY.
It's a unique opportunity for immersion.
It's a reminder that change is possible,
And old routines can be transformed to something more fulfilling.
It's an invitation to go deeper inside by getting outside one's comfort zones.
It's immersion into the NOW with like-minded spirits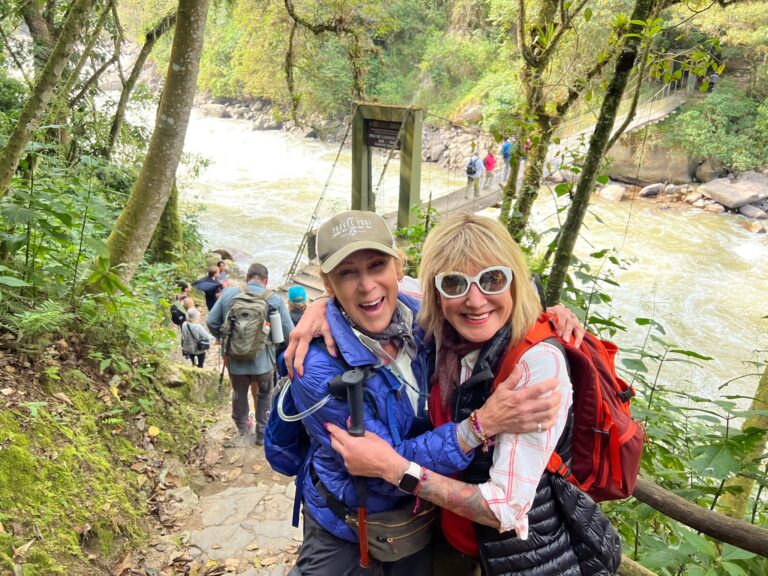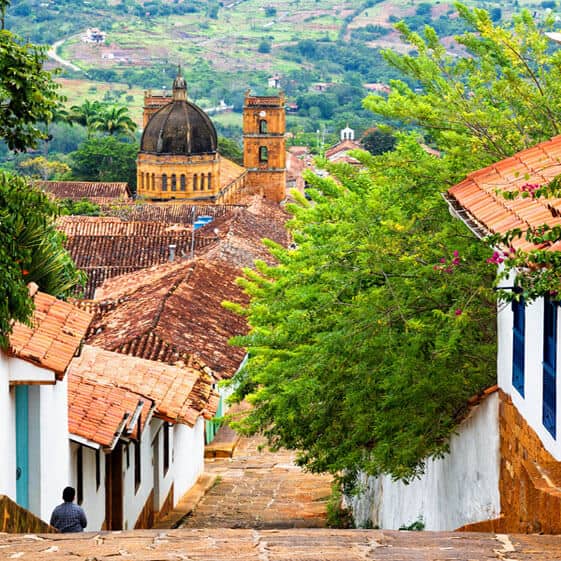 COLOMBIA, NOV 4 - 11, 2023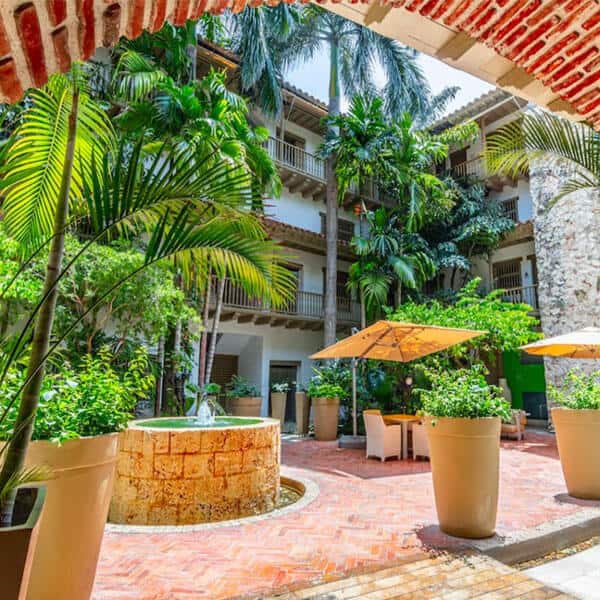 Trip in One Word: Rhythmic
What You'll Experience in Colombia
Colombia is home to vibrant cities and people, unbelievable coffee, music pouring out of open windows, and some of the most beautiful places on the planet. Dive into culture, food, and rhythm on this yoga retreat in Colombia (with the help of local guides, of course). Hike mountain paths between villages in the Andes, take over a restaurant in Cartagena, horseback to a picnic in the wild, and chillax on the Rosario Islands. Explore by foot, hoof, plane, hands, and taste buds as you experience the best, and the tucked away, of Colombia. Add color, rhythm, and spice to your life as you luxuriate on this yoga retreat in Colombia.
How You'll Feel When You Return Home
You'll return home with rhythm in your steps and vibrancy in your heart. You'll bring back recipes, coffee, photos, new Spanish vocab, and technicolor memories to keep you smiling even on the dreariest of days. This yoga retreat in Colombia is truly legendary! 
How You'll Experience Colombia
You'll start your yoga retreat in Colombia by exploring Cartagena—a notoriously colorful and vibrant city—on foot and by taste bud. You'll stay in the vibrant Getsemani region of town, known for its delicious food, impromptu dancing on the streets, beauty, and diverse markets. Next, you'll fly to Barichara, a no-words-can-do-it-justice village in the Andes with cobbled streets and an unchanged look since its founding in 1705. Be blown away by an unforgettable and tucked-away mountain village experience. Explore by foot and tuc-tuc (hang on tight!), horseback ride and picnic in the wild, hike mountain paths, wander between villages and dine with locals. Cable car between mountain ranges and get your caffeine by tasting local brews at a coffee plantation. Then head to the coast to relax on the beach, boat the pristine Rosario Islands, swim, snorkel, and eat fresh seafood. You'll bookend your days with yoga sessions and mouthwatering cuisine to help you integrate and acclimate.
TO REGISTER OR LEARN MORE, 
Blissful Bali, April 20 - 27, 2024
Trip in One Word: Rejuvenation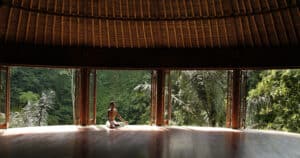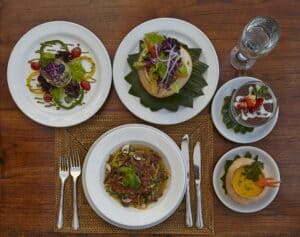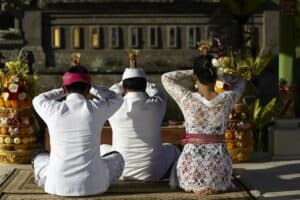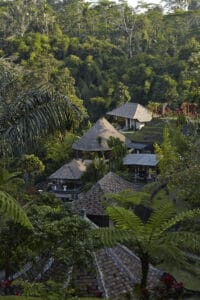 What You'll Experience in Bali
Bali is a world-renowned yogi paradise. But, for The Travel Yogi, it's just paradise. Brimming with culture, mysticism, magic, and nature, this yoga adventure is for the beach-loving yogi seeking backroads biking, ocean vibes, and cultural exploration. We don't care how much you've practiced breath of fire, Bali's beauty will truly take your yogic breath away. Learn more about our Bali yoga retreat.
How You'll Experience Bali
Our Bali yoga retreat adventure is a journey filled with wonder. We will take you off the mat to experience the rich and luxurious beauty of Bali—from its people to its many sacred temples. You'll explore by bike, wave, tastebuds, and foot across the island, imbibing in the ancient and magical energies. Dine with locals, rejuvenate in the healing waters of the ocean, and witness verdant hillsides and green rice terraces. You'll have time to relax, explore, imbibe, and mingle with new friends and travelers—and, of course, integrate it all on the mat. 
How You'll Feel When You Return Home
When you get home (unless you decide to stay!) from your Bali yoga retreat you'll have a little piece of magical, soulful, iridescent Bali in your heart to match your memories and photos.  Expect body and mind rejuvenation and residual happy vibes from this magical island.